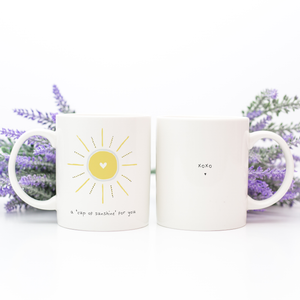 'a cup of sunshine for you'

* 11oz ceramic mug
* dishwasher & microwave safe
* glossy finish

PACKAGING: All mugs are double boxed when shipped so they arrive safe & in one piece. Each mug is wrapped in tissue, placed inside a sturdy white box and wrapped with natural cotton twine. Whether it's being shipped as a gift, or if it's going straight to you... great care is taken & presentation is everything.

©Susan Case Designs, LLC - design by susan case - all rights reserved.