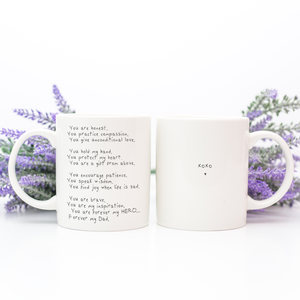 Let your Dad know how much you look up to him... your forever hero... with this heartfelt gift for him.  

You are honest. You practice compassion. You give unconditional love.
You hold my hand. You protect my heart. You are a gift from above.
You encourage patience. You speak wisdom. You find joy when life is sad.
You are brave. You are my inspiration. You are forever my hero... forever my Dad.

* 11oz ceramic mug
* dishwasher & microwave safe
* glossy finish

©Susan Case Designs, LLC - poem & design by susan case - all rights reserved.